Classroom Creativity – Key To Education ~  Episode 448
Classroom creativity is so much more than arts and crafts, yet with so many subjects to cover classroom creativity may be the last thing you as a parent think is important, especially in the home. Today along with my special guest, Chad Stewart we will learn that it is important to overall education.
Thanks to our sponsor Courageous Legacy – after ten years the feature film Courageous which has changed so many lives for the better is back, this time as Courageous Legacy – this movie has been remastered, it includes a new ending as well as bonus scenes. If you missed this, you will want to catch this version, I saw the original movie and it is another wonderful Kendricks's brothers production. You can find more information at Courageous The Movie
Today we are going to focus on the topic of Creativity my guest, today I want to introduce you to Chad Stewart also known to his readers as CR Stewart, the author of what is soon going to be a series of books you will want to collect for your home library. Visit Britfield.com as well as BritfieldInstitute.org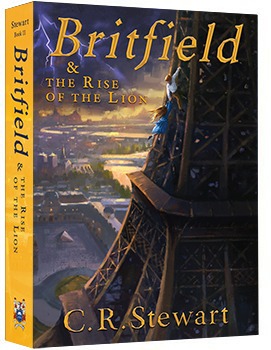 Purchase books here: https://www.britfield.com/store/
Our nation is in a crisis, and the lack of creativity is one of the areas that schools have failed our children. Schools not only do not give opportunities and most destroy the real love of learning. The importance of children who are encouraged to be creative, independent, and who are nurtured to learn fits in perfectly to the homeschool model.
He shared a Ted Talk on Creativity by Sir Ken Robinson. One of the most played Ted Talks of all time.
Key Points:
Creativity is the single most important subject.
Employers look for people who are creative.
Introducing children to various experiences is key.
Creativity is important for leaders, inventors, brainstorming, figuring out a crisis with options and ideas, and thinking outside of the box.
[Listen to the audio for the full broadcast.]
Currently, there are two books in the Britfield series with book three soon to be published. The exciting goal is to have seven books and seven movies upon completion of the series. The books take place in different countries, the first in England, and the second in France. [Chad shared all the books and countries they will cover on the podcast.] These are wholesome and engaging stories for the entire family.
About Chad Stewart:  A prolific writer, highly respected producer, creativity specialist, international consultant, and prominent speaker. Founder of the prestigious Devonfield L.L.C., a comprehensive company dedicated to the highest quality in film production, publishing, and education, Stewart's areas of expertise are writing film and media production, global strategy, and international marketing.
Podcast: Play in new window | Download
Subscribe: Google Podcasts | Spotify | Android | Stitcher | TuneIn | RSS | More
---
A Special Thank You to Our Network Sponsor:  Courageous Movie
From the Kendrick Brothers, creators of the No. 1 box-office movie WAR ROOM and OVERCOMER, comes the remastered re-release of COURAGEOUS Legacy, in theaters September 24. Celebrating 10 years of impact on families and fathers, this updated version of the film includes new scenes and an enhanced look and sound.
Filled with action-packed drama, COURAGEOUS Legacy will once again have viewers laughing, crying, and cheering as they are challenged and inspired by everyday heroes who long to be the kinds of dads that make a lifelong impact on their children. Protecting the streets is second nature to these men. Raising their children in a God-honoring way? That's courageous.
---