Back to Homeschool Decisions (and a Giveaway!)
It's that time of year, Back to Homeschool season. Along with an incredible giveaway (see below), many current homeschool moms are looking for a way to make extra income to afford the homeschooling lifestyle. You might be a mom curious about homeschooling and hoping you can find a way to earn extra money while you  homeschool.
I'm here to encourage you, that YES! You can homeschool and work from home. And this could be the year you get to celebrate two things: working from home and a back to homeschool giveaway!
Is a Virtual Assistant Business Right for a Homeschool Mom?
When determining if a virtual assistant business is a good work from home opportunity for a homeschool mom, it helps to take a virtual assessment.  Ask yourself the following questions to help you make a sound decision.
A homeschool mom looking for a side hustle will appreciate a back to homeschool giveaway!  Check out the $250 Rainbow Resource Gift Card Giveaway at the bottom of the show notes for this post. }
Many homeschooling moms have heard the buzz about working at home. Is it possible to work at home and have a work at home business?
It's vital to consider that homeschooling is your first commitment. You've made the promise to your family.
Ask yourself:
Can I prioritize my homeschool over my business and still bless my family financially?
Is it possible to serve my family and my clients in a way that doesn't stress me out?
Can you manage a "side hustle" and still homeschool well?
Let's look at what a virtual assistant is and what's required.
First, What is a Virtual Assistant?
A virtual assistant is an individual who helps manage portions of a business owner's business. Normally a freelance worker, you can work your business from anywhere. A homeschooling mom is an ideal fit for this! She's likely already a working through the three areas you need to master to be successful!
They are …
1. Manage (your VA Business)
Time- Are you able to manage the time necessary to work your business? Can you handle the daily life interruptions? Can you balance homeschooling, working at home, and family life?
Money- Can you handle the ebb and flow the income? Are you able to manage taxes due? Can you make wise spending choices?
Instructions – Are you willing to take the time to follow instructions and learn the needs of a client? Can you balance the client needs with the needs of a homeschooling moms life?
Alone time- Do you have a strategy for handling time alone and make the best use of that time?
2. Market (your VA Business)
Don't be shy! Are you willing to get yourself out there? This often takes time and that's a precious commodity for a homeschooling mom. Can you make this work?
What are you good at? Make a list of your skill set. Think about the things you already know and do as a homeschool mom that can translate to a VA business.
Ideal Client, what's that? Are you able to think about who you already know that you might be able to help with their business. This is likely the homeschooling community.
3. Master (your VA Business)
Learning:
Are you willing to invest your time and resources into what's necessary to grow your skill set and establish your business properly?
Growing:
Are you willing to establish the processes  and systems you need in order to grow your business?
Scaling:
Would you say that you're willing to learn to manage a team or subcontractors in order to make an independent income?
If you've determined, that Yes! I think I can homeschool and have a home business keep reading …
How can you homeschool and have a virtual assistant business and do both well. The 3 skills we've covered are your launch pad.
Think of the time commitment.
Homeschooling is often a full time job.
Do you have the support of your spouse and family to add to that responsibility?
Can you use your managed free-time to build a business without building resentment in your children?
Is it possible to stay on top of the legal requirements to homeschool while building a business?
I'm confident that you can, but this is something that you have to consider for yourself. Sit down and talk to your spouse and family. Listen with an open mind to their objects and considerations. Manage everyone's expectations and you're sure to have the answer and the confidence you need moving forward.
With the right support, an honest look at your homeschool mama priorities, and a commitment to do things well, you can build a business that will bless your family.
Links Mentioned In This Podcast
How to Make Money as a Social Media Manager
Rainbow Resource Giveaway
A new homeschool year is right around the corner!
Many homeschool moms are busy preparing and finalizing curriculum choices for the upcoming school year.  And some homeschoolers are trucking on through the summer months as one school year flows into the next.  Whatever camp you are in, you're bound to need new homeschool curriculum, and winning a gift card to a major online homeschool retailer would surely help you check some things off of your curriculum wish list.
I'm teaming up with some other great homeschool bloggers to bring you a HUGE gift card giveaway to Rainbow Resource Center.  We will be blessing TWO homeschool families with a $250 for you to use on curriculum, books, games, puzzles, or whatever educational supplies you might need!
We know homeschooling can put a financial strain on families – whether it's from living on one-income or buying curriculum for multiple children – the financial aspect of it can be stressful.  Our hope is that we can bless a couple of homeschool families (although we wish we could bless many more) so they can buy the curriculum and supplies they need.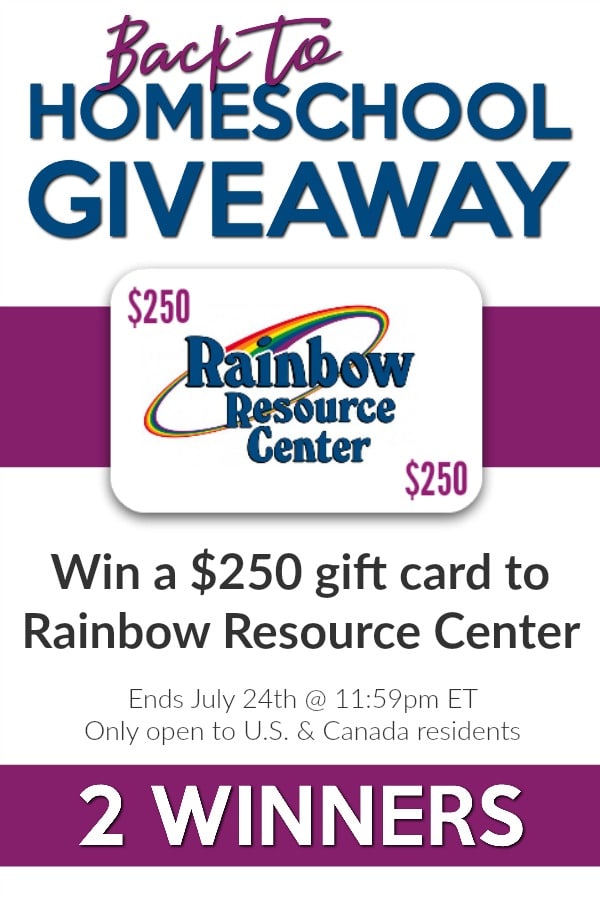 To enter for your chance to win, simply use the Rafflecopter form below to enter.  Now I know that is quite a few entries for you, but each of these bloggers has generously chipped in their own money to make this giveaway possible, so I hope you will take the time to do all of the entries.  And hey, the more entries you do, the better your odds are of winning!
Giveaway Details
Giveaway ends July 24, 2019 at 11:59pm ET.  Must be at least 18 years of age.  Must be a resident of U.S. or Canada to enter.  Selected winners will have 48 hours to respond to email notification to claim their prizes or another winner will be drawn.  By entering this giveaway, you agree to be added to the email lists of the participating bloggers (see the Terms & Conditions on the Rafflecopter form for the complete list).
a Rafflecopter giveaway

---
Special Thanks to Our Network Sponsor -Bridgeway Academy!
Bridgeway Academy was founded in 1989 in response to the need for more freedom in education as well as the protection that accreditation offers for homeschooling families. Since then, more than 30,000 K–12 students, and many charter and brick-and-mortar schools, have made Bridgeway Academy their trusted education partner.
As part of our commitment to personalized homeschooling, we are proud to offer both secular and Christian options for homeschool families, charter schools, state organizations, co-ops, athletic organizations, arts schools, and others who seek flexible education options for their families.
---
Podcast: Play in new window | Download
Subscribe: Google Podcasts | Android | Email | RSS | More