Welcome Featured Speaker, Mary Jo Tate – podcaster at Flourish at Home
Mary Jo has been a long-time friend—long time. So, when I invited her to host a podcast, I knew that inexperience would not be a factor as she used to host a broadcast for the Homeschool Channel. I was once a guest, and truth be told, she did a great job!
Mary Jo is the author of the acclaimed book, Flourish: Balance for Homeschool Moms. I knew she would have so much to teach us…and she has.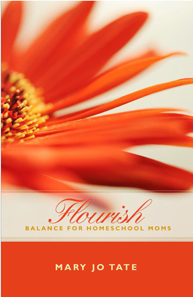 Mary Jo is a single mom who has homeschooled and raised four boys, three of whom have graduated from homeschool and are in college. She still homeschools her youngest son, who is fifteen. She also runs a thriving business as an editor and book coach. Mary Jo was the editor of our Creation Series, which is how we first met.
Mary Jo's show airs the first and third Tuesday of each month at 9 PM Eastern. Here is a sampling of her shows:
Laundry and Dishes and Dust…Oh My!
Visit Mary Jo on her website: Flourish at Home
Connect with Mary Jo on Facebook
Follow Mary Jo on Twitter