Hey, homeschoolers! Even in an age of enlightenment, there is still stigma and misunderstanding about mental health. As homeschoolers, we don't want to neglect to teach it to our children–especially to our teens. But before I introduce my guest, I want to thank you sponsor: Reading Eggs.
Sponsor: Reading Eggs
With Reading Eggs, your homeschoolers will enjoy a highly personalized learning journey, designed to support them at every stage. Plus, you'll get four programs in one with your subscription – Reading Eggs, Reading Eggspress, Reading Eggs Junior, and Fast Phonics. Our interactive lessons are based on scientific research and feature colorful animations, fun music, and exciting rewards to keep your children motivated to learn.
"My kids are homeschooled and this is the best reading and math site that I have ever found. My son started not knowing all the letter sounds and within a few months he was reading at a first grade level." – Mehdi C.
Interview Summary
Melanie starts by asking Tiffany to introduce herself and share a bit about her family. Tiffany talks about her three children, her experience of adopting her oldest child, and her initial reluctance to homeschool due to negative childhood experiences with it.
Tiffany explains that she decided to homeschool her oldest child when the school suggested holding her back due to behavioral concerns. She emphasizes the flexibility and enjoyment she found in homeschooling, despite initially being hesitant about it. She also shares that she believes parents should choose the best educational path for each of their children individually.
Melanie and Tiffany discuss the topic of in and out of homeschooling, with Melanie sharing that one of her own children attended public high school for their last two years of education, and it worked well for that particular child.
The conversation takes a deeper turn as Tiffany talks about her interest in mental health. She shares that her mother had bipolar disorder, and her family's church community did not respond well to mental health issues. This led to feelings of shame and secrecy around mental health problems. Tiffany eventually sought therapy and began her mental health journey.
Later on, Tiffany discusses her involvement in a church-based group, where she participated in a Bible study called the Armor of God by Priscilla Shrier. This experience helped her understand her inner struggles and the importance of self-compassion.
Throughout the conversation, Melanie and Tiffany touch on various aspects of homeschooling, mental health, and personal growth, providing insights and reflections on these topics.
Tiffany on Instagram    TheCursedBrain.com
Have a happy homeschool week!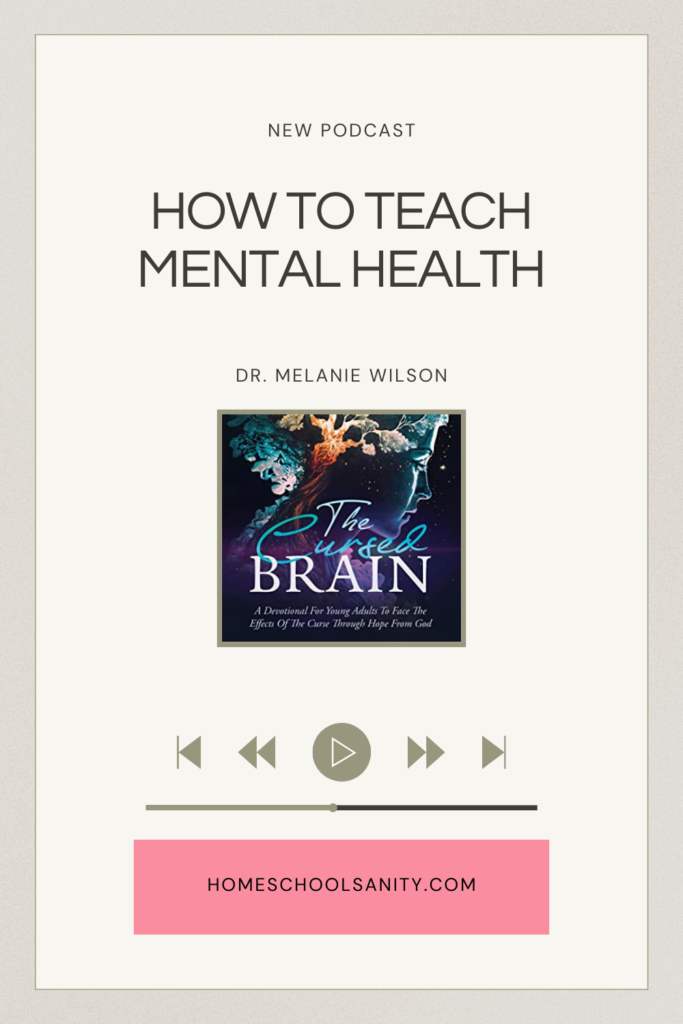 Podcast: Play in new window | Download
Subscribe: Google Podcasts | Spotify | Android | Email | TuneIn | RSS | More