A homeschool leader asks if the way her group pays volunteer teacher is legal.
Holly, a homeschool group leader emailed HomeschoolCPA Carol Topp this situation:
"I need guidance on the method with which our organization's volunteers are paid teacher fees. We are collecting cash from all the members for their children's class fees, and redistributing it to the teachers for their class payment.
Apparently this is being done to simply the process and so members do not have to write checks. I am concerned this is an illegal practice."
Listen as Carol explains
Whether this is legal
Are these teachers really volunteers?
Should the teachers be employees or Independent Contractors?
What Holly's organizations needs to do regarding paying teachers
A simpler option
Featured Product
In the podcast I mentioned my book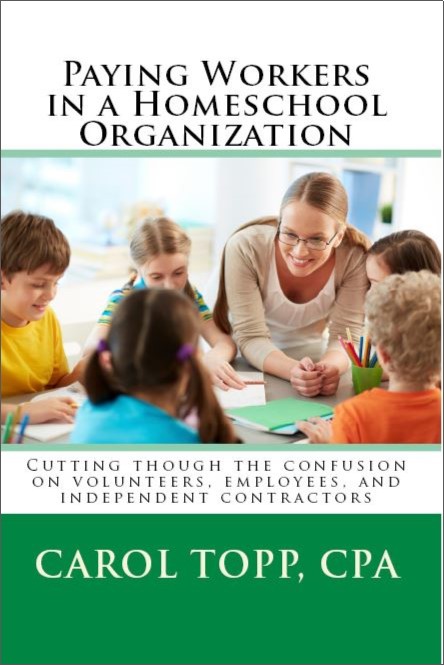 Are you paying workers in your homeschool organization?
Can a volunteer be paid?
Should a worker be treated as an employee or independent contractor?
Do you know the difference?
Homeschool leader and CPA, Carol Topp, has the answers to your questions in her book Paying Workers in a Homeschool Organization.
This 130 page book covers paying workers as employees or independent contractors. There are also chapters on paying volunteers and board members. It includes sample forms, tips and advice to help you pay workers in accordance with the IRS laws to help your organization pay their workers correctly. Written specifically for homeschool organizations.
Podcast: Play in new window | Download
Subscribe: Google Podcasts | Spotify | Android | Email | RSS