You may be concerned if your student resists reading, writing, and all things English. Reading in particular is the best predictor of a child's future success—not just in school, but in life. If that's your situation, I have help. You can get your child interested in language arts.
Podcast: Play in new window | Download
Subscribe: Apple Podcasts | Google Podcasts | Spotify | Android | Email | TuneIn | RSS
Join me on Periscope or become a member of the HomeschoolScopes community on Facebook.
Teaching Tip of the Week
Answers for Kids from  Answers in Genesis Bookstore
Organized Homeschool Challenge of the Week
Links
5 Days to Your Child Becoming a Better Reader
Free Funny Fall Writing Prompts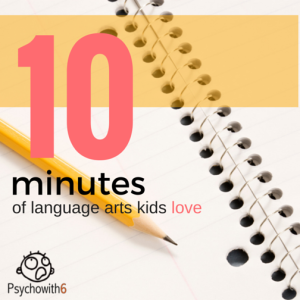 Caught Ya, Grammar with a Giggle
The Ultimate List of Free Grammar Games
This Week's Action Steps
Determine why your child doesn't like language arts
Address your child's specific problem
Model reading and writing for your child
If you found this podcast helpful, I would be thrilled if you would rate it on iTunes and share the sanity.
Next week
We'll discuss help for the anxious homeschooler.
Have a happy homeschool week!