If you've heard my podcast, Destination: Inspiration, here on the Ultimate Homeschool Radio Network before, you know I LOVE travel. Not just for the adventure and excitement, but truly for building world changers.
And, I guess I've traveled so much that I consider myself one of those world changers. I really don't fit in a box, and travel helps me express my identity. I believe it can help form yours, and those of your children. (Keep reading 'til the bottom to see how YOU can have an amazing travel experience, too!)
It really is my life's purpose to inspire others, and to get them to GO! After all, Jesus said "Go!" into all the world and share the good news! Even though we "homeschool," He tells us to GO! This burning passion fueled me to found the new Non-Profit Social Enterprise, Word Traveling.
Throughout all of the significance and blessings experienced through travel, none can compete with forming strong relationships. In fact, I met Felice, our visionary and founder here at UHSRN while traveling! And, we've met together in person since then- traveling!
This past weekend, I was blessed to sponsor and attend the 2:1 conference, especially for other homeschool bloggers.
Though the keynotes and blogging tips were fantastic, nothing was more impactful than the prayer and real friendships we were able to continue, and begin, "IRL" (in real life!) I met so many blogging mentors, sisters and friends, continued to develop friendships from  last year's travel, and was even able to meet my fabulous media director, Amy,  in person for the first time, I'm only bummed we forgot to take a picture together!
Perhaps some of the most special are those ladies I got to hug in person that have become dear sisters through this network. After all, it's really God's network. And it yours. And He values family.That means we are family, too!
I'm blessed to have the extended family here at UHSRN,  and it's our pleasure as hosts to share our blessings with you! Here's a quick snap of Kendra of Homeschooling IRL, Amanda (our behind the scenes rockstar,) Katie, Educando en el Hogar, and me- Jen:)
Make sure you sign up for the newsletter here and see where we could meet IRL, too!
Check out this video we premiered last weekend to catch the vision at Word Traveling, and how it's really my dream to help others travel, too! 
Until next time- click on the giveaway graphic and the flip flops below to enter the contest, and a chance to meet IRL ourselves! Share some love on social media, and ~ bon voyage! 
Throughout the month of May, a group of these friends and more will be celebrating the travel effect with posts and a fabulous Florida vacation giveaway! Keep reading to find out more.Click the "WIN" graphic to be taken to the giveaway.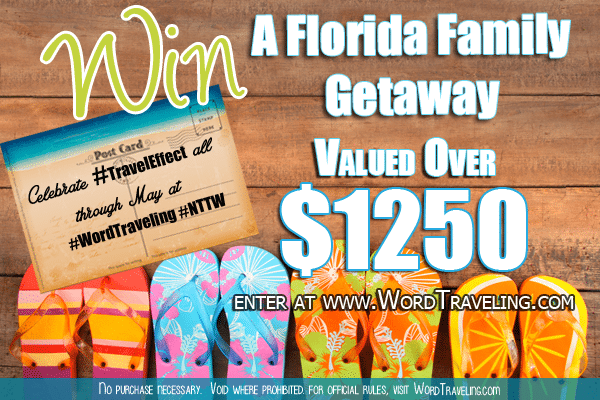 Find out what our blogging friends have to say about the Travel Effect!
5-1 Jen at Word Traveling shares Come Celebrate the Travel Effect with Us. (You are here!)
5-1 Amy at Homeschool Blogging shares about Traveling to Conventions.
5-2 Stacey at I'm A Lazy Mom shares My Newest Lazy Mom Travel Essentials.
5-3 Jen at Word Traveling (that's me!) shares NTTW Kickoff! Infographic & Video Contest Announcement
5-4 Amy at Homeschool Encouragement shares Free Travel Printables for Kids!
5-5 Katie at Paradise Praises shares Large Family Travel Tips
5-6 Jen at Word Traveling shares Travel Effect- The Effects Travel Has on Family.
5-6 Jen at Conservamom shares the Dave Ramsey School of Traveling with Your Family.
5-7 Jenilee at Our Goodwin Journey shares Tips for Surviving Well in Small Spaces
5-8 Jen shares on the Ultimate Homeschool Radio Network. (you are here!)
5-9 Suzette from Godly Rose shares Disney on a Dime.
5-10 Marcy from Ben and Me shares 10 Tips for Saving Money on Vacation.
5-12 Kendra from Homeschooling IRL shares Traveling With Kids Is Worth All the Effort!
5-13 Wendy on Word Traveling shares The Great Escape to Italy: Planning Our Getaway.
5-15 Trisha at Intoxicated on Life shares 4 Passes to Access Over 3,300 Educational Family Adventures
5-15 Jen at Florida Parent Education Association shares Making Memories at Your Homeschool Convention.
5-17 Tonya shares Practical Ways to Save Money on Your Next Road Trip
5-20 Susie (age 6) shares Flying as an Unaccompanied Minor.
5-21 Leslie shares Getting Outdoors While Traveling with Kids.
5-23 Phyllis shares Do You Travel With Children?
5-28 Kathy shares Boredom Busters For Road Trips
Ready to hear about the big Travel Effect Giveaway????
One winner will be blessed to receive:
3 nights stay at Casa del Rey in Hobe Sound Beach, and a chance to meet Jen-value -$450
2 nights stay for a family of 4 plus Breakfast at Sun Tower Hotel Suites in Fort Lauterdale – value $500.
Geo Matters Maps & Geography Bundle TBA ~$150.
Wonder Maps from Bright Ideas Press – value $49.95.
Apple Core homeschool record keeping-one year subscription- value $55.
Car Cache– THE solution to keep your handbag safely within reach. value $23.95
Words With Wings One Year Subscription from Word Traveling – value $59.