Homeschool leader Amanda Shafer is a woman of many talents. After first serving as her board secretary, she is now switching to serving as their treasurer!
Amanda's been secretary of her homeschool group, Heartland Homeschool Association in southeast Missouri. But she agreed to a new role as treasurer. In this episode of the HomeschoolCPA podcast host Carol Topp and Amanda discuss:
Keeping a master file of important papers
Having a calendar at every board meeting
What a homeschool organization's treasurer does
A really good policy for new treasurers
How often a treasurer should give a report
Possible software systems for homeschool groups
How to get a free copy of Quickbooks online. Use Quickbooks online for free
Amanda's board follows a good rule for treasurers. They want a person to serve on the board for at least one year before serving as treasurer. "No new hand get into the money!" was how Amanda explains it. That sounds wise to me.
Carol and Amanda met online at the I Am a Homeschool Group Leader Facebook Group. It is a closed group (meaning you have to request to join) of 600+ homeschool leaders from across the USA. You can join us here: https://www.facebook.com/groups/72534255742/
Featured Product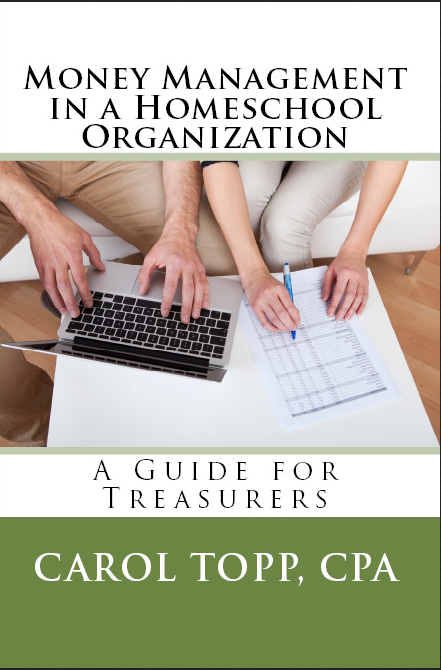 Does your homeschool group manage their money well?
Do you have a budget and know where the money is spent?
When is it time to use accounting software?
Do you know how to prevent fraud?
This 115 page book will help you to open a checking account, establish a budget, prevent mistakes and fraud, use software to keep the books, prepare a financial statement and hire workers. Sample forms and examples of financial statements in clear English are provided.
Click here for more information
Podcast: Play in new window | Download
Subscribe: Google Podcasts | Spotify | Android | Email | RSS